Target:
Epithermal target beneath a graben hosted steam-heated alteration cell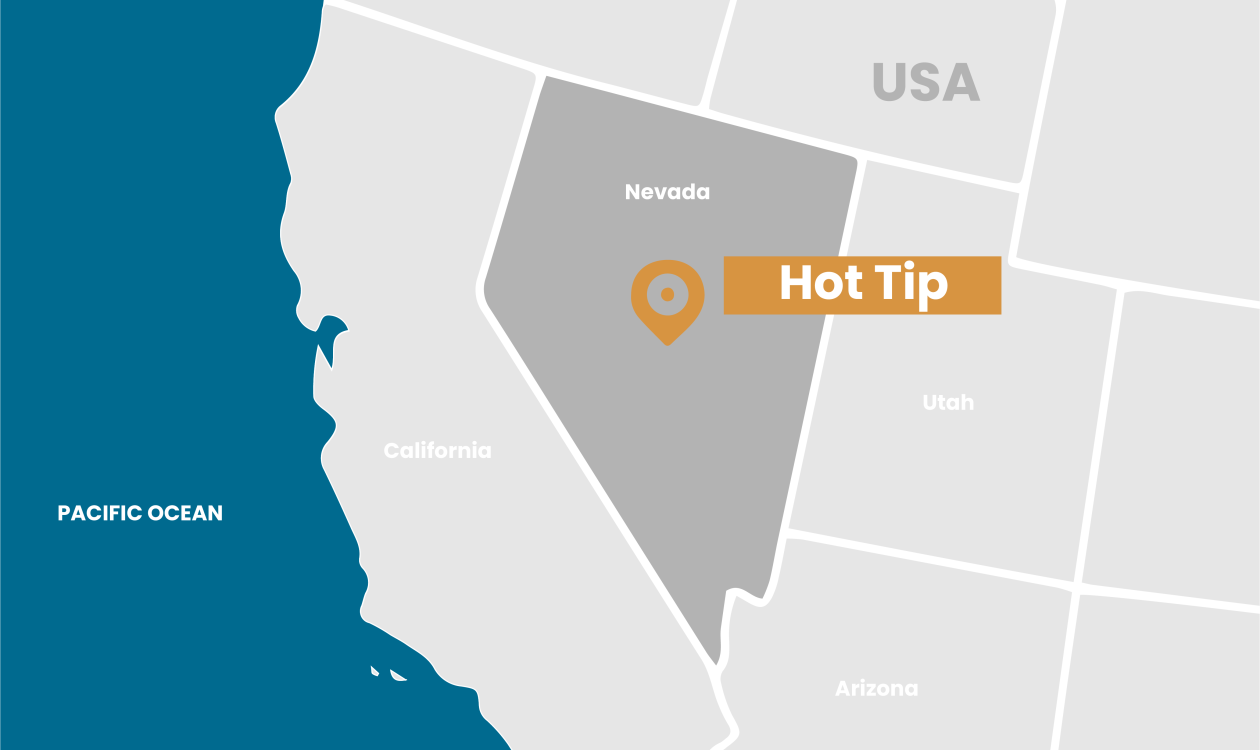 Location
The 890-hectare Hot Tip property is located in central Nevada, 250 kilometres northwest of Las Vegas. The claims are located on road accessible BLM land in Railroad Valley, 20 kilometres south of US Highway 6 on the eastern edge of the Pancake Range.
Overview
The property contains a four-kilometre diameter Late Miocene epithermal steam cap consisting of silicified and argillized Oligocene tuffs overlying Devonian dolostones with widespread jasperoid development. The core of the alteration zone is marked by alunite with a morphology and geochemistry indicative of an underlying boiling zone. The alunite is concentrated in a four kilometre long by one-kilometre-wide graben comprising the untested, down dropped, core of the system. A historical drill hole near a hydrothermal breccia outside the northwest margin of the graben returned 0.38 g/t gold over 24 metres indicating the precious metal bearing potential of the system. Pathfinder elements are strongly anomalous and define an extensive metal-rich hydrothermal system.
Orogen has mapped rhyolite dykes across the property whose emplacement is controlled by the graben structures. These dykes are proposed to constitute apotheoses of favourable intrusive host rocks at depth, analogous to AngloGold Ashanti's Mother Lode deposit (inclusive resource of 1.7 million ounces gold at 0.77 g/t1).
The alteration at Hot Tip is open under alluvial cover to the north, south, and east with altered outcrops of silicified rhyolite with visible cinnabar, within the southern extension of the graben, over three kilometres to the south of the principal target highlighting the district scale potential of the property.