Operator:
Private Company
Location:
Mande Batholith, Colombia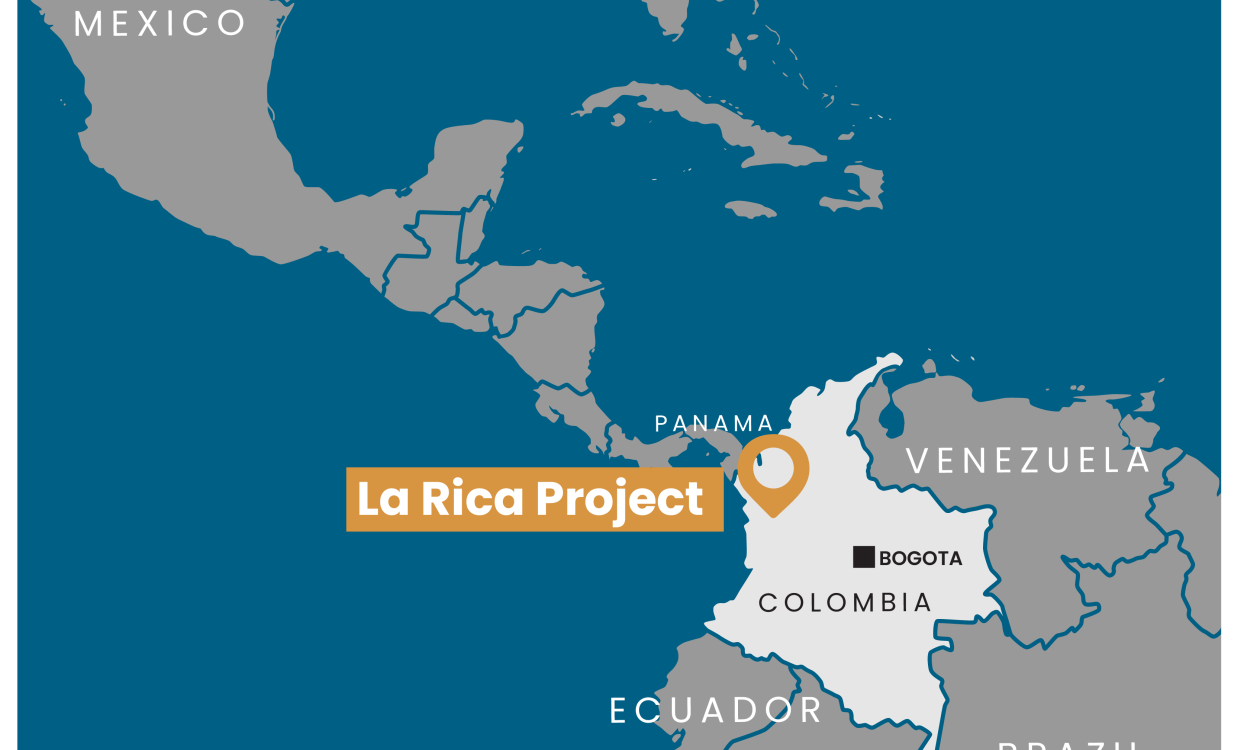 Royalty Summary
Orogen holds a 1% NSR royalty subject to a 0.5% buydown for US$15 million and right to a US$6 million property-related back-in right payment on the 160 square-kilometre La Rica project operated by a private exploration company.
Project Overview and History
The La Rica project hosts an elongate cluster of porphyry copper-gold centres containing at least four distinct porphyry centres. The outcropping mineralization comprises chalcopyrite, bornite and gold and occurs in quartz diorite porphyries with intense potassic alteration and hydrothermal magnetite. A large soil geochemical grid combined with rock and stream sediment sampling over the La Rica target displays fifteen kilometres of copper anomalism entirely within Orogen's 160 square-kilometre royalty area of interest. The namesake La Rica zone became a focus of early work with rock sampling (118 samples) over an area of 500 metres by 600 metres averaging 0.76% copper and 0.47 g/t gold coincident with a historic chargeability anomaly. There has been no historic drilling on the La Rica property.
The Mande Batholith, which hosts the La Rica zone, was first identified prospective for porphyry copper targets by a regional stream sediment survey carried out by Ingeominas (Colombian Geological Survey) and the United Nations (UN) in 1970. The La Rica project was one of the priority porphyry copper targets recognized in this study. La Rica occurs on the western margin of the Mande Batholith proximal to the Murindo Fault, a regional-scale arc-parallel fault system that can be traced down the axis of the Mande Batholith. The Murindo fault is considered analogous to the Domeyko Fault System (West Fissure) of northern Chile that localizes Eocene-Oligocene aged copper deposits.
Transaction Summary
Under the terms of the Agreement, Orogen will acquire the right to a 1% NSR royalty interest from Gold Plata pursuant to the La Rica royalty agreement (the "Royalty Agreement") with Private Company for US$1.75 million along with a one-time contingent payment of US$5 million subject to either one of the following events:
Back in right associated with the La Rica project whereby Orogen receives a US$6 million payment: or
Buydown right whereby half (0.5%) of the 1% NSR royalty on La Rica can be purchased for US$15 million
Recent Exploration Activities
May 31, 2023: https://orogenroyalties.com/news-releases/orogen-royalties-acquires-a-copper-royalty-in-colombia/