Open ended epithermal gold mineralization in the Northern Nevada Rift
Location
The Jake Creek property is located 64 kilometers (40 miles) northeast of Winnemucca, NV 20 miles west of Hecla's Midas mine, in Humboldt County, Nevada, US.
Overview
The areas surrounding the Jake Creek property have been explored by several companies, for the most part looking for Carlin-type mineralization hosted in Paleozoic rocks, similar to the nearby Twin Creeks Mine (located 10 kilometres to the west). The Jake Creek property was explored most recently during 2008-2012 by Evolving Gold Corp., who conducted gravity and IP geophysical surveys, an extensive mercury in soils survey, surface mapping and sampling and a 13-hole RC drilling program. Their drilling program encountered significant gold mineralization up to 11.3 g/t Au in the Tertiary volcanic rocks closely associated with the Tertiary-Paleozoic unconformity. This drilling was never followed up.
The Jake Creek property is also located on the western margin of the Northern Nevada Rift 20 kilometres west of Hecla's Midas mine and straddles the contact between younger alluvial gravels on the west and Tertiary volcanic rock on the east. The Tertiary package is made up of a series of tuffs and flows ranging in composition from rhyolites to basalts and displaying a strong NNW structural fabric as mapped by Wallace (1993). Evolving Gold intercepted gold mineralization along the Tertiary-Paleozoic unconformity, as well as associated with rhyolite dikes, identifying a prospective buried low sulfidation epithermal gold system. Follow up drilling will target high grade veins similar to the ones historically mined across the rift at Midas (2.2 million ounces of Au and 27 million ounces of Ag produced since 1988).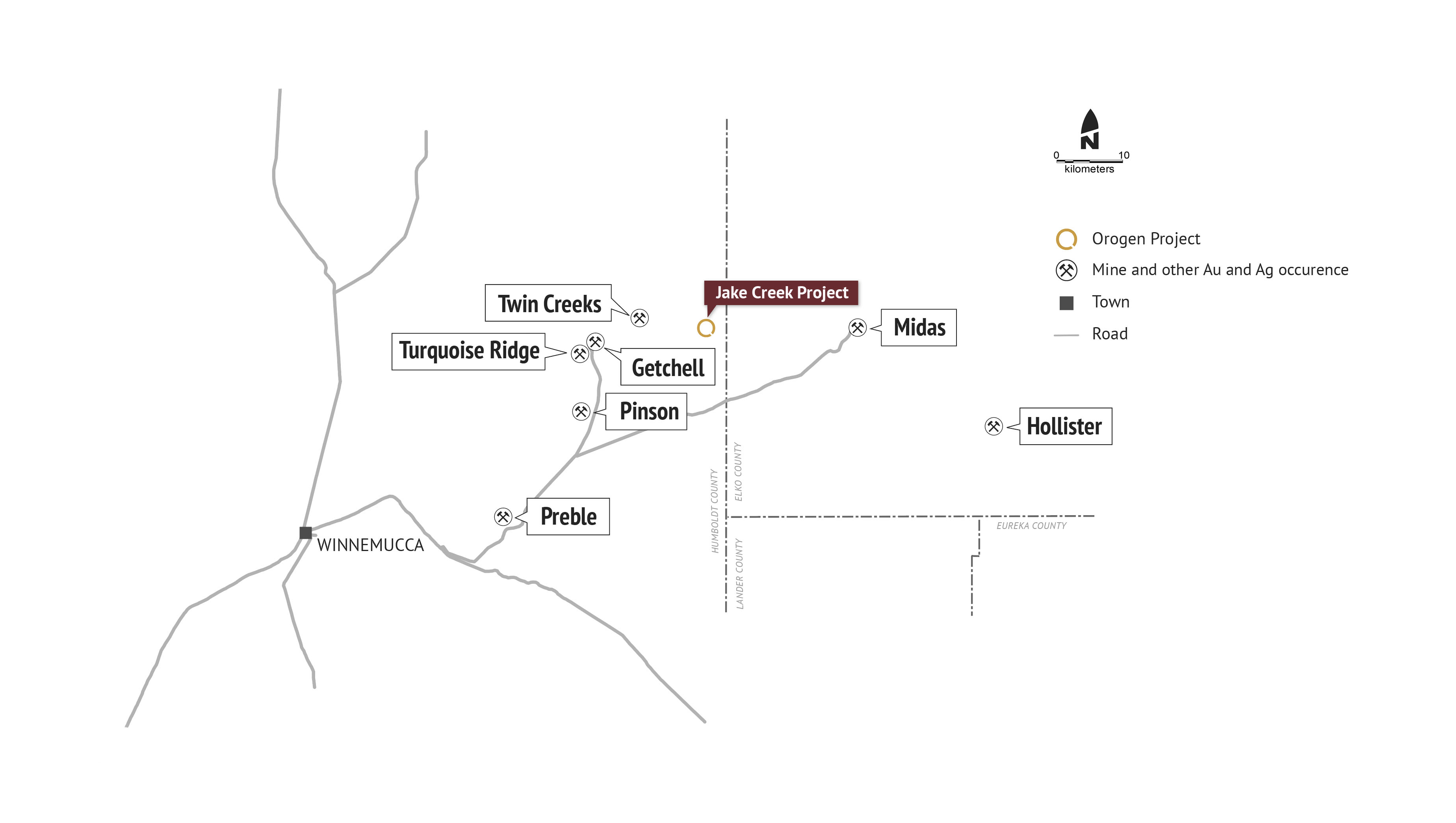 Technical Video Presentation